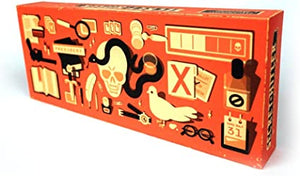 The Consulting Gamer
Secret Hitler
Regular price
$52.00
$0.00
Tax included.
A fast-paced game of deception and betrayal

Secret Hitler is a dramatic game of political intrigue and betrayal set in 1930's Germany. Players are secretly divided into two teams - liberals and fascists. Known only to each other, the fascists coordinate to sow distrust and install their cold-blooded leader.
The liberals must find and stop the Secret Hitler before it's too late. Each round, players elect a President and a Chancellor who will work together to enact a law from a random deck. 
Beautiful wooden components

Solid game boards with foil inlay

Hidden roles and secret envelopes for five to ten players
---
Share this Product
---
More from this collection