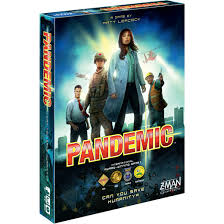 The Consulting Gamer
Pandemic (2013)
Regular price
£39.99
£0.00
Tax included.
4 deadly diseases are spreading across the world and it's up to you to contain the epidemics while researching vital cures.

Cooperative play – all players work together against the game itself; it'll take teamwork and communication to save the world.

Suitable for 2 to 4 players of 8 years old and above

Playing time 45 minutes

Adjust the difficulty level to suit you – start simple as you learn the ropes or add extra challenge for experienced players
As skilled members of a disease-fighting team, you and the other players work together to keep the world safe from outbreaks and epidemics. Only through teamwork will you have a chance to find a cure. Pandemic is a cooperative board game in which players work as a team to treat infections around the world while gathering resources for cures. First published in 2007, the game's distinct combination of cooperative gameplay, engrossing premise and compelling design have proved a hit with everyone from hard-core gamers to casual players. The Pandemic game line includes multiple expansions and stand-alone titles. You and your team are the only things standing in the way of deadly diseases that threaten the world. The fate of humanity is in your hands.
Box Contains
Game board
7 Role Cards
7 Pawns
6 Research Stations
6 Wooden Markers
96 Disease Cubes
48 Infection Cards
---
Share this Product