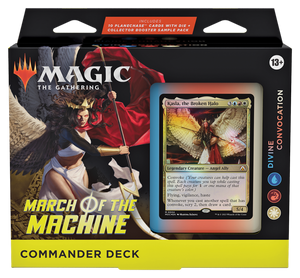 The Consulting Gamer
March of the Machine: Commander Deck - Divine Convocation
Regular price
$56.00
$0.00
Tax included.
Teamwork Makes the Dreamwork
Kasla descends from the skies of Zendikar with her flock of creatures and tokens that reduce the cost of spells. Gather the masses under her wing, then dish out devastating damage!


Planechase Returns
Travel between planes as you battle for the fate of the Multiverse with the return of Planechase! Planechase is a play format that supplements a typical Magic game with a planar deck that determines what plane you are battling in.
The first player flips the top card of the planar deck face-up and that is where your battle begins! Throughout the game, players rolling a planar die may trigger that plane's "Chaos" ability or "planeswalk" them to a new plane, revealing a new card from the planar deck. Every March of the Machine Commander deck comes with 1 planar die and a 10-card planar deck of 5 Planechase card reprints and 5 never-before-seen Planechase cards.

Collector Booster Sample Pack
Collect the finest cards in the Multiverse! Each Commander Deck comes with a Collector Booster Sample pack containing 2 special treatment cards from the March of the Machine set, including 1 foil Multiverse Legend—a Legendary creature card with a showcase frame styled after the plane they are from.
Each sample pack contains:
· 1 Traditional Foil or Nonfoil Alt-Border Rare or Mythic Rare card
· 1 Traditional Foil Multiverse Legend Uncommon card
---
Share this Product
---
More from this collection