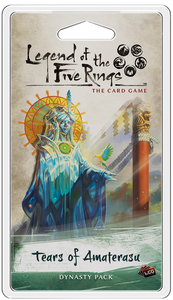 The Consulting Gamer
L5R Tears of Amaterasu Legend of the Five rings LCG expansion
Regular price
$13.00
$0.00
Tax included.
As the seven clans of Rokugan continue to serve the Emperor, cracks begin to fracture between them. Conflict is brewing in the Emerald Empire, and every clan must be ready for the turmoil to follow.
Tears of Amaterasu, the first Dynasty Pack in the Imperial Cycle for Legend of the Five Rings: The Card Game. Tears of Amaterasu comes with three copies each of twenty new cards, giving every clan new tools in their quest for superiority.
The Imperial Cycle continues to introduce the themes found in the Legend of the Five Rings: The Card Game Core Set as well as expanding on cards tied to the Seeker and Keeper roles. The cycle explores the imperial side of the Empire by introducing a cycle of powerful magistrates as well as cards that focus on the Imperial Favor mechanic.
---
Share this Product
---
More from this collection