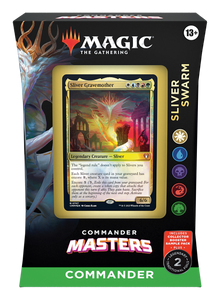 The Consulting Gamer
Commander Masters: Commander Deck - Sliver Swarm
Regular price
$114.00
$0.00
Tax included.
Powerful Preconstructed Decks
Masters sets are super-charged sets that bring together some of Magic's most desirable cards. This Commander Masters preconstructed deck is a high-powered masterpiece right out of the box, containing some of the greatest cards to ever grace the Commander format.

Introduces 10 Commander Cards
Every Commander Masters Commander Deck introduces ten never-before-seen cards, including two Traditional Foil legendary creature cards that you can play as your commander.
Sliver Gravemother
Known for their voracity, vast numbers and linked consciousness, Slivers strengthen each other every time you play another of their kind. From the depths of an unknown plane, Sliver Gravemother united her hive to overtake both the land . . . and the limits of death itself.
---
Share this Product
---
More from this collection