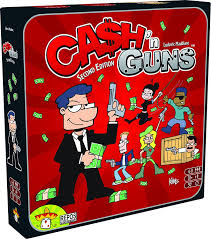 The Consulting Gamer
Cash n Guns
Regular price
£26.99
£0.00
Tax included.
You and your criminal associates just pulled off the score of a lifetime and now it's back to the warehouse to divide up the loot. The only problem is: Thieves aren't exactly known for sharing well with others. When the guns come out, how long will you stare down the barrel of your friend's pistol? Cash'n Guns Second Edition is a party game for four to eight trigger-happy criminals.
The second edition adds new players, special powers and a streamlined rule set to start your bullets flying faster than ever before.
Cash'n Guns is played over eight high-tension rounds. Each round, eight loot cards are revealed as the haul to be divided. Loot cards can be anything: Priceless paintings, sparkling diamonds, first aid kits or just hard cash. Everyone still standing at the end of the round gets a share of the goods - the hard part is getting there in one piece.
---
Share this Product