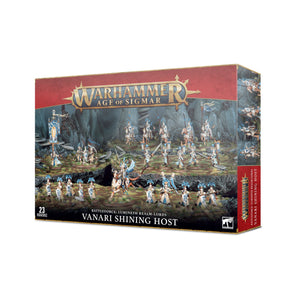 The Consulting Gamer
Battleforce: Lumineth Realm-lords – Vanari Shining Host
Regular price
£112.50
£0.00
Tax included.
Vanari Shining Hosts are the steel blade of the Lumineth, their determination unwavering and their skill in battle honed to a fine point. They strike with a preternatural elegance befitting the aelven masters of Hysh.
Wielding sword and magic in perfect symmetry, the martial force of the Realm-lords is unparalleled across the realms, and can be yours control with this Battleforce box that contains a complete Vanari Shining Host.


This set includes the following multipart plastic kits:

1x Vanari Lord Regent (can alternatively be assembled as Lyrior Uthralle, Warden of Ymetrica)
1x Vanari Starshard Ballista
1x Vanari Bannerblade
5x Vanari Bladelords
5x Vanari Dawnriders
10x Vanari Auralan Wardens

The above units are supplied with 1x 80mm round base, 5x 75x45.1mm oval bases, and 60x 25 mm round bases. These miniatures are supplied unpainted and require assembly – we recommend using Citadel Plastic Glue and Citadel paints.
---
Share this Product