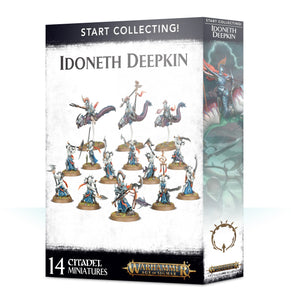 The Consulting Gamer
Start Collecting Idoneth Deepkin
Regular price
$67.00
$0.00
Tax included.
Kick off your Idoneth Deepkin collection with this specially selected starter set! They've taken some core units every army needs, and put them in one handy set, saving you money compared to getting the models inside separately.
In this box, you'll find:
1x Isharann Soulrender
 – a Hero to lead your army who can restore fallen Namarti to life,
10x Namarti Thralls
 – a deadly close-combat unit that carves enemies apart with Lanmari blades, with an optional icon bearer and various aesthetic customisation choices
3x Akhelian Guard
 – assemble yours as unbreakable Ishlaen Guard or lightning-spewing Morrsarr Guard.
---
Share this Product
---
More from this collection